Apple Music VS Spotify | Which One Is Better?
I took the time to test the value propositions of Apple Music and Spotify, the two favorite and best music streaming services for iOS & Android. Both have their own advantages and disadvantages, but each user profile should find something to suit them and make up their minds among the catalogs and prices for both applications.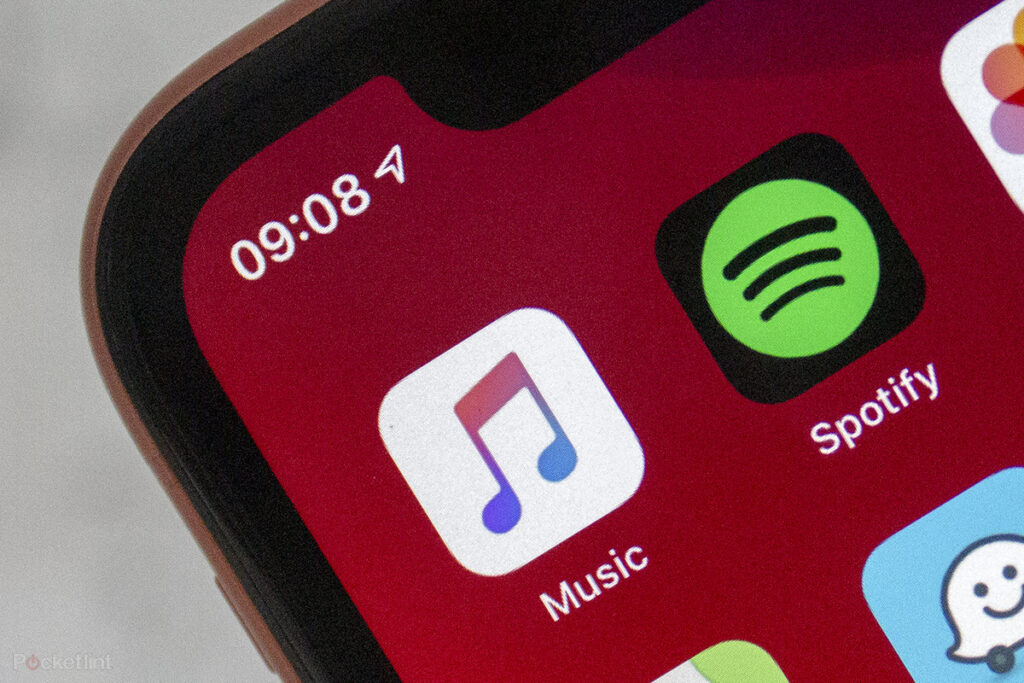 In 2008, Spotify entered the market for unlimited song listening on the internet. At the same time as Soundcloud, also founded in Stockholm, but since based in the capital of electronics, the Swedish application is revitalizing the sector attacked by MySpace and Napster.
Since then, Spotify left its status as a startup and reached the title of world number one, in particular thanks to eight rounds of more than 2.5 billion dollars (Tencent, Goldman Sachs) and at least 130 million paying customers. The company even went public and is now valued at more than 25 billion according to most sources.
Apple, for its part, has been trying to gain a foothold in the services market for a few years: this branch is indeed the second most profitable of all its activities, according to the results communicated by its CFO about the first. a quarter of 2020.
Alongside Apple Arcade and TV + -for series-, Apple Music is thus one of its most popular platforms, and for good reason: launched in 2015, its icon is now automatically integrated into the Dock of macOS. In France, however, this solution is not well known to the general public, the fault of the still very clear hegemony of Deezer (Orange, CIC, Xavier Niel) and Spotify.
Just at the bottom of the podium, we also find Amazon Prime, which in turn capitalizes on other acquisition channels including its next working day delivery service.
Podcasts: Spotify vs Apple Music
Especially because Spotify has bought the media The Ringer, we know that the Swedish streaming application relies heavily on podcasts. Among those who are free to listen, we find subjects as diverse and varied as:
Ted conferences
Thinker View and its interviews with debated French personalities
We Love TFTC (a spin-off of the YouTube channel Tales from the click on the seventh art)
WeCrashed: The Rise and Fall of WeWork, which, as the name suggests, deals with the fall of the unicorn and the setbacks of its CEO Adam Newman
But what subscribers know less, even if Spotify remains the platform with the largest number of podcasts, is that most of them are also available from Apple, not on its Music app, but on a separate site. , soberly titled… Apple Podcasts. Completely free, it is available on iOS and iPadOS.
Application: Spotify has more features than Apple Music
At fourteen years of service, Spotify has had time to refine its menu: its application is therefore ideal for discovering music regularly, thanks to options designed for.
The goal of its publisher is to keep us as connected as possible to consume its offer, and it is true that most audiophiles can easily get lost among the different artists in the catalog as we sometimes drown in the millions of Wikipedia articles. . It's culture.
At Apple, as is often the case, the emphasis is rather on the quality and fluidity of the interface, with a neat design and an experience onion.
The general public – or those who value the continuity of their Apple equipment – will therefore turn more to Apple Music, for its ease of use and universality. At Spotify, on the other hand, we are quickly convinced by a beta edition, and new tools are regularly tested according to the expectations and requests of members.
Features
Just like Spotify, Apple Music offers the following features:
creation, discovery, and management of playlists, artists, and albums
classic sound controls
connection to a Wi-Fi or Bluetooth speaker
voice control via Siri
follow friends and know the music they listen to
To understand why Spotify does better than Apple Music, however, we note the following exclusives :
Spotify Kids mode, with content specially dedicated to children (like on Netflix)
the release radar, great for those who like to be up to date with the latest news from their favorite DJ
concert tracking, to know when a tour is in your city
Spotify App compatibility:
The Spotify application is accessible on iPhone ( both the low-cost version of the iPhone SE and the iPhone XR, as long as you stay up to date on iOS), Android, iPad, Apple TV, Apple Watch, Mac, Windows, and even has its own integration into the iMessage app. Even PlayStation, Xbox, Android TV, Android Auto, CarPlay, and the Amazon Fire TV are compatible. On this point, it is faultless, and even the web client is running very well.
Apple Music, on the other hand, sticks mostly to the devices of its brand for the moment, and its desktop version is, it must be admitted, not as powerful as the original or that of Spotify, much more complete.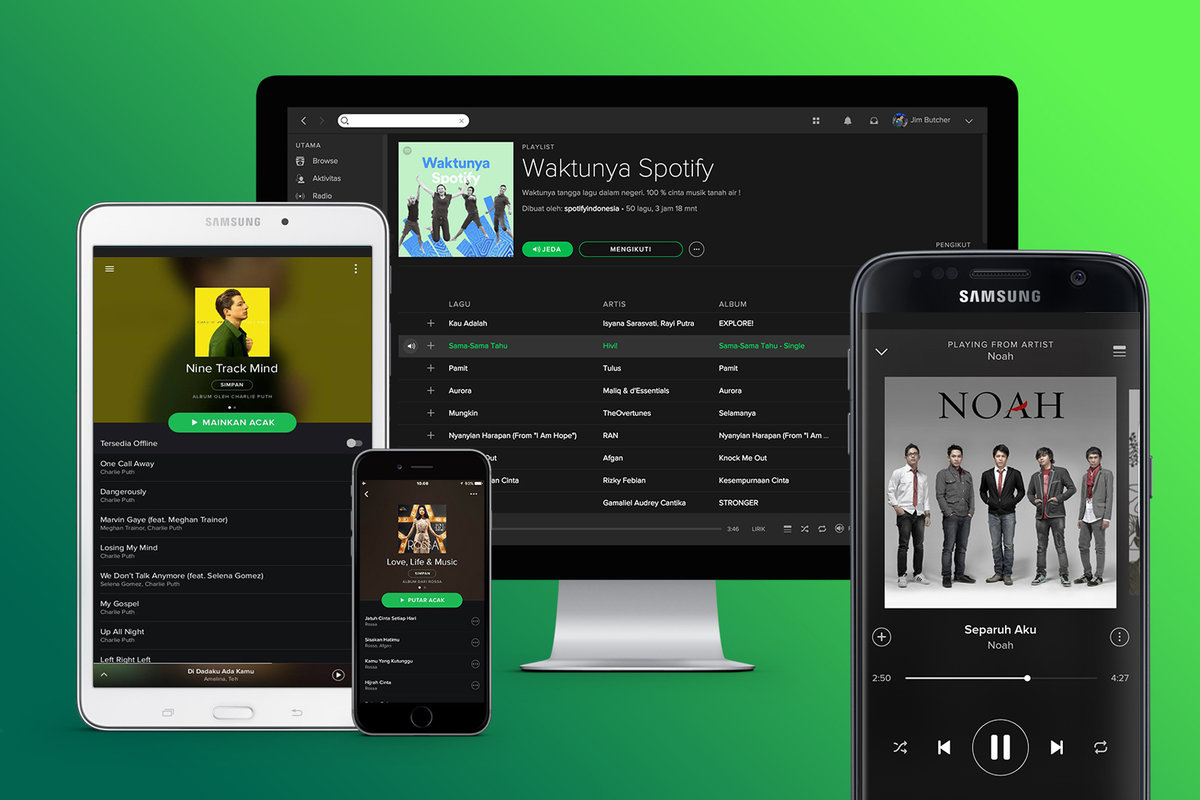 A Small Point On Audio Formats
Like almost all digital media, these two services apply data compression in order to optimize bandwidth and ensure stable operation even with a poor internet connection. But each uses a specific encoding format and bit rate.
Apple has opted for AAC (Advanced Audio Coding) at 256 Kbit / s while Spotify has chosen the Ogg Vorbis at 320 Kbit / s. On paper Spotify's higher bitrate seems to give it the edge, but the two formats aren't actually comparable just on their bitrate. We can in any case say that each of these formats has its followers and that they are both preferred to MP3 by connoisseurs.
From a technical point of view, none of these services is capable of broadcasting in high definition, the bit depth, the most important factor of audio definition, is limited to 16 bits against 24 for other services like Qobuz and Tidal. (If this is all gibberish to you, then check out our  guide to audio formats  )
However, both Spotify and Apple Music are capable of delivering near CD-quality which will suffice for the majority of users. But are they equal for all that? This is what we will see.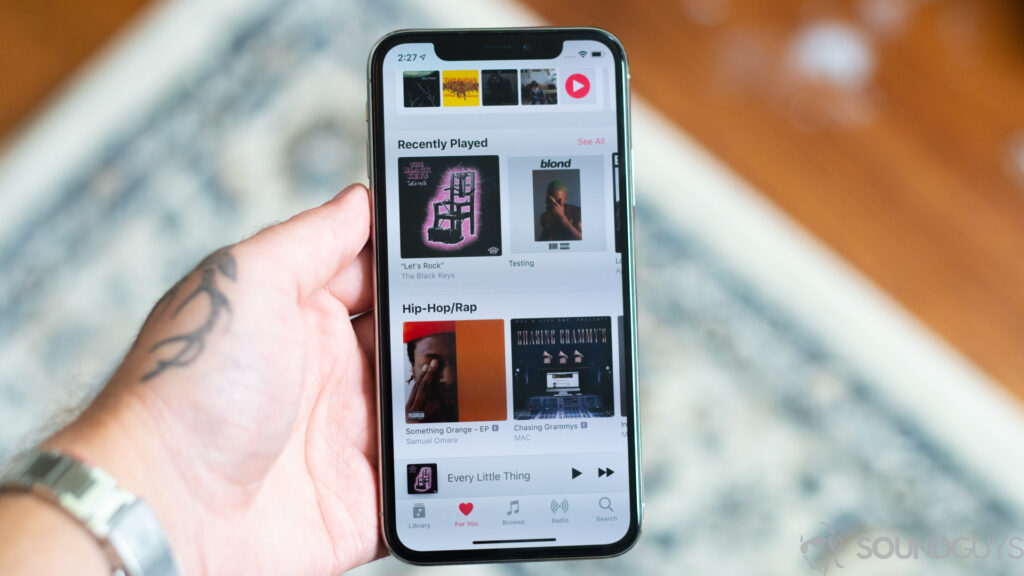 Our Setup
As we had already seen by comparing Spotify and Tidal, listening tests can be tricky, especially with old titles.
When listening to a song from the analog era, the version used by streaming services may be different. For example, the Spotify version of Miles Davis' "Kind of Blue" was better than Tidal's, which still offers an uncompressed high-fidelity sound that is supposed to be superior.
In fact, it depends on a lot of criteria, including the quality of the medium used for encoding example. Newer songs are therefore easier to compare, as the labels provide the same version to everyone.
For this test, we wanted to mix common Apple devices and high-end audio equipment. We, therefore, installed the Apple Music and Spotify applications on an iPad connected via WiFi to an Apple TV box (itself connected via Ethernet to a router). In both cases, the music was played from the iPad to the Apple TV via the AirPlay wireless protocol.
The Apple TV was connected to an Oppo BDP-105 Blu-ray player by an optical cable in order to exploit the excellent DAC (digital to analog converter) of this brand. Finally, the analog signal was transmitted by the Oppo player to a NAD C 358BEE amplifier and Pioneer SP-EBF73 speakers.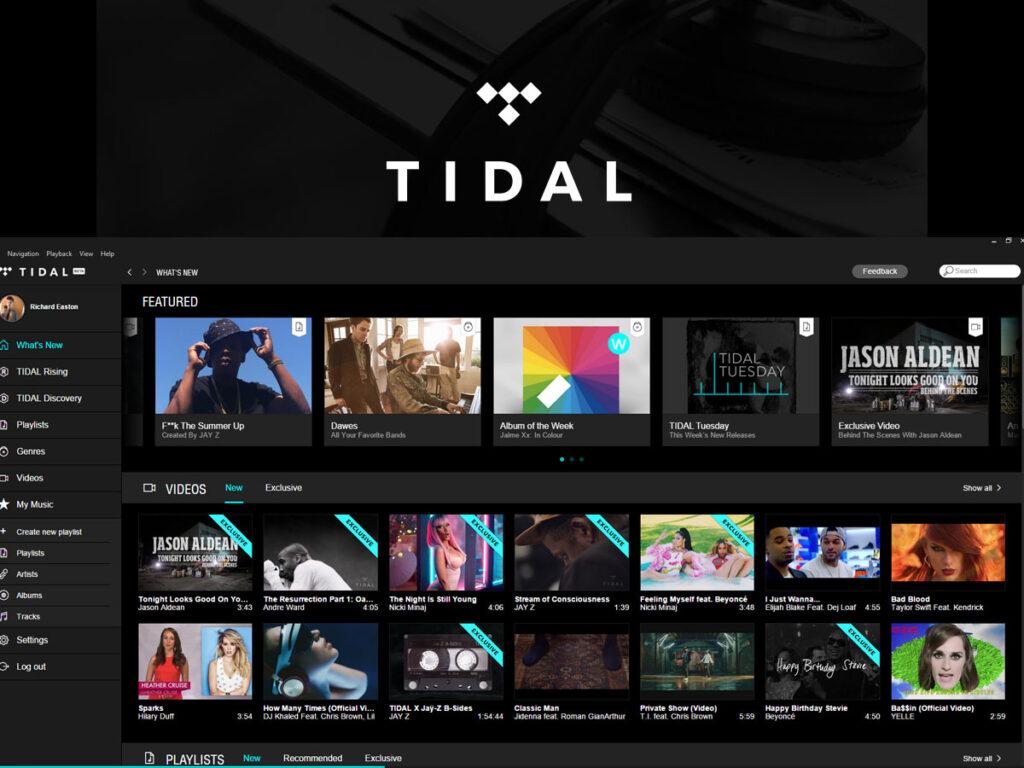 As we were unable to configure Tidal's iOS application to broadcast via AirPlay, we went through the PC application by connecting the Oppo DAC via USB in order to have the same element of comparison.
Spotify VS Apple Music Test:
Recently, thanks to Sony, we had the chance to listen to the studio version of a great jazz classic, Dave Brubeck's "Take Five". We were amazed at how clear this 60-year-old recording was and how powerful the percussion was. With this impression still in mind, we were able to compare the versions of this song offered by Apple Music and Spotify.
They were found to be broadly equivalent, although the Spotify version came closer to the character of studio recording. There was a greater sense of space around the saxophone while the Apple Music version seemed a little more distant and less vibrant.
From jazz, we then moved on to independent rock with the title "Life" from The beta Band. This song's descending bassline is a justice of the peace for most of the audio systems we review.
And it turns out it's equally formidable for streaming services. The very deep bass cuts through an octave, and the sound was smoother and smoother on Spotify than on Apple Music.
If there is one thing that can bring out the flaws in compressed audio formats, it is cymbals. We listened to "Monkey Wrench" by Foo Fighters and the result was very similar from service to service. On the other hand, neither Spotify nor Apple Music held the comparison on this song played via  Tidal.
The cymbals and the guitars were much better separated there which gave a better clarity. Finally, we also tested more vocal pieces. On "The Singer addresses his audience" by The Decemberists, Spotify once again fared a little better by offering more details than Apple Music. Still, the result is good on both services and you wouldn't feel like something is missing if you only listened to one or the other.
Price: Spotify vs Apple Music
Before deciding to test Apple Music and Spotify, you must first know that the two applications offer a free trial of one month, or even more during certain special limited-time offers, which we share in our daily tips.
Otherwise, only Spotify offers a free subscription, but this is limited by ad serving between tracks and cannot be accessed offline. In addition, it is impossible with this plan to launch particular music: the playback of an album or a playlist is random.
Otherwise, you have to pay 9.99 euros per month for an individual Spotify Premium plan, 12.99 euros for a couple, or 14.99 euros for a family, with six accounts. Finally, a student offer of 4.99 euros per month allows smaller budgets to get by at lower costs. Apple Music charges the same prices but just doesn't offer a duo subscription.
Spotify has some serious advantages that Apple Music lacks: a cheaper deal for two, better compatibility across all devices, and more podcasts. With this, the exit radar is particularly different: I use it daily because I listen to music all day long, and this is what allows me to " change discs ". There is nothing more annoying than someone going over the same leads over and over again, right?
Despite everything, some may prefer the Apple Music application for its radio functionality, its better integration with Apple products, its even more refined design, and finally its more classic selection. In any case, regardless of your iPhone model, this is a good solution because the payments also go through your iCloud ID.
And you guys also let me know in the comment section below that Which One will you prefer in Apple Music vs Spotify?