Bose QC Earbuds Review: The World's Most Effective Noise Cancelling Earbuds
It has been rumored that the Bose QC Earbuds, the first noise-canceling wireless headphones from the American manufacturer who invented the technology, are now officially available. Despite being one of the last manufacturers to offer noise cancellation on their products, the lengthy development period had raised expectations for an exceptional product.
To determine if Bose has matched or even surpassed the industry leaders such as Sony, Sennheiser, and Apple, we tested the earbuds by wearing them ourselves. The results we discovered were nothing short of intriguing.
Key Specifications of Bose QC Earbuds:
This "technical sheet" includes all the characteristics that Bose designs to provide to its potential customers.
Microphones: 4 total
Bluetooth version: 5.1
Bluetooth range: up to 9.144 m
Supported codecs: SBC and AAC
Battery life: up to 6 hours
Earphone battery charging time: 2 hours
Charging case battery charging time  : 3 hours
Fast charging time: 15 minutes for 2 hours of listening
Headphone dimensions  : 39mm x 26mm x 27mm / 8.5g
Charging case dimensions  : 89mm x 51mm x 32mm
Price: 280 €
Design and Feel of Bose QC Earbuds:
One of the most striking features of the Bose QC Earbuds is the size of their charging case, which stands out among the competition. While other manufacturers strive to make their cases as compact as possible, Bose takes a more relaxed approach, resulting in dimensions of 89 x 51 x 32 mm. For comparison, the Sennheiser Momentum True Wireless 2 case measures 77 x 44 x 25 mm, while Apple's AirPods Pro case measures 60 x 45 x 21 mm, which are already considered impressive.
However, the Bose case is made of high-quality plastic, providing robust protection and a generous recharge for the two headphones. These earbuds bear a striking resemblance to the SoundSport Free, Bose's first fully wireless headphones released in 2018, except for the active noise cancellation feature and the absence of mechanical keys. Instead, Bose has opted for a tactile surface, replacing the physical buttons. Additionally, the Bose QC Earbuds come equipped with StayHear tips, which are developed in-house by Bose.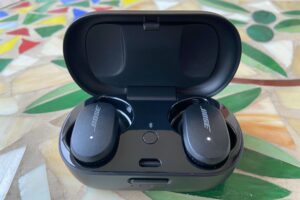 The StayHear tips have been a feature of Bose's in-ear devices for about a decade, and over time, they have been improved based on user feedback and suggestions. The latest version, StayHear Max, retains the original concept of a handle that fits into the ear's convolutions, holding a silicone tip comfortably in the ear canal without being as intrusive as traditional in-ear tips. This design provides excellent passive sound insulation, and most importantly, the StayHear Max tips keep the headphones securely in place, even during activities like running.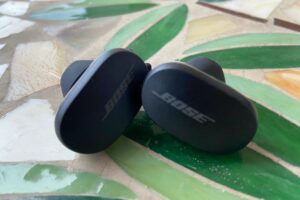 The Bose QC Earbuds are certified IPX4, making them resistant to splashes and sweat. We found them to be comfortable and efficient, especially with the StayHear Max tips, which provide an unparalleled listening experience without causing discomfort or irritation, even after long hours of use.
However, we were disappointed with the lack of controls on the earbuds. Instead of mechanical buttons, they feature tactile surfaces for controlling various functions. The left earbud's surface allows for a customizable shortcut or changing the noise reduction level, while the right earbud's surface activates the voice assistant or controls music playback. The customizable shortcut can only be set to announce the battery level or skip to the next track, and there is no option to adjust the volume or replay tracks without using the smartphone. This limitation is a significant drawback and makes us question why Bose chose not to implement a more robust touch interface like that of their Headphone 700 model.
Despite the Bose QC Earbuds' impressive features and functions, there are some downsides that cannot be ignored. One of the most significant drawbacks is the overly sensitive touch zone. Even slight adjustments to the earpieces can accidentally trigger a touch command, causing confusion and interruption of the listening experience. However, Bose may be able to address this issue through a software update.
Moreover, the Bose Music app, while minimalist and straightforward, lacks an equalizer. It primarily serves to facilitate firmware updates, adjust the noise reduction level, and manage connected Bluetooth devices. One of the QC Earbuds' strengths is their ability to remember up to eight paired devices for easy automatic connection. Unfortunately, the headphones do not support simultaneous connection to multiple devices, which is a missed opportunity.
Sound Quality of Bose QC Earbuds:
Bose, as it has done in the past, remains tight-lipped about the technical specifications of its headphones, which is unfortunate. We can only confirm that the Bose QC Earbuds support the SBC and AAC codecs and have Bluetooth 5.1 wireless connectivity. Given that Bose was founded by an engineer and has a reputation for producing quality audio products, the lack of detailed technical information is perplexing. Over the years, Bose's audio signature has become more focused on boosting bass, perhaps in response to the changing trends in contemporary music.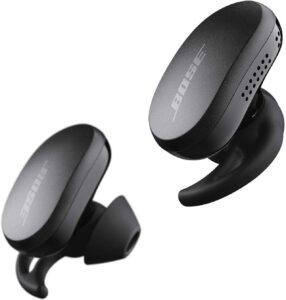 The Bose QC Earbuds deliver a rich and balanced audio experience, showcasing the brand's signature bass amplification while maintaining the mids and treble. The headphones excel in reproducing the nuances of complex tracks like Woodkid's "Pale Yellow," Lou Reed's "Walk on the Wild Side," and Mozart's "Requiem." The stereo scene's spatialization is also commendable, resulting in a satisfying listening experience.
When it comes to noise reduction, the StayHear Max tips and audio signal processing work together to deliver ten levels of attenuation, enabling users to choose their preferred level of ambient sound awareness. The left earphone's touch zone allows for four levels to be memorized, and the maximum attenuation effectively cancels out low-frequency sounds such as those found on buses, trams, or metros.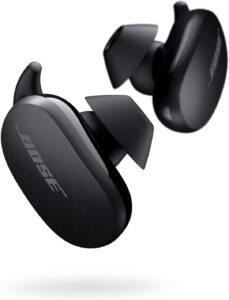 The choice of silicone tips is crucial for the treble, and Bose offers three different sizes to ensure the best fit for your ears. Although the human voice is somewhat attenuated, it remains audible in some cases and at certain volume levels. Phone calls sound clear and detailed, and our voice remained distinguishable from the surrounding noise during outdoor conversations.
The headphones deliver a detailed sound provided that the mobile network is of good quality. In terms of Bluetooth connectivity, the Bose QC Earbuds offer a reliable and consistent connection. Our testing revealed that we could move about ten meters away from the smartphone without experiencing any signal loss, even with two concrete walls in between. These results were consistent across both Galaxy Note 20 Ultra and iPhone 11 devices.
The battery life of Bose QC Earbuds:
The battery life of the Bose QC Earbuds is very good, although not exceptional. The manufacturer claims six hours of battery life, but in our tests, we were able to exceed this by thirty minutes (with the sound at 75% and noise cancellation activated). The charging case provides two additional charges, which totals almost 20 hours of listening time.
You can charge the earbuds via USB-C or with a Qi-compatible induction charger. Although almost 20 hours of battery life is satisfactory, given the size of the charging case, we would expect a little more. Bose also states that only 15 minutes of charging can give you two hours of battery life, but this is not always the case, especially if you frequently make phone calls.
The verdict of Bose QC Earbuds:
The Bose QC Earbuds are a great choice for those looking for high-quality sound and excellent noise reduction. Bose has truly delivered on this aspect, surpassing many competitors in the market. The battery life is also impressive, although not exceptional, and it's convenient to charge them by induction.
However, the touch control interface is a significant letdown. It was not user-friendly and often difficult to use. It's surprising that Bose didn't incorporate the more successful interface from their Headphones 700.
View this post on Instagram