Why create an Instagram strategy? What are the best practices to put in place for your company? And how will it propel your business? And Most Important How to create an Instagram Marketing Strategy?
Today, visual content has never been so numerous. Whether it's a quick selfie from our lunch or the latest video of our pet doing an amazing trick.
This increase in visual content flooding social networks is therefore even more marked on Instagram.
As a result, several brands are incorporating Instagram into their marketing strategy for business growth. Videos, giveaways, and photos drive high engagement rates.
Instagram has become so important because it's a global social network that connects people only through visuals. This makes it a powerful way to capture and hold the attention of your target audience.
For the past few years, marketers and brands have been scrambling to capitalize on this monumental growth of Instagram. It has been proven that promoting your business on Instagram is a formidable tool if you learn the tricks to sell your brand on Instagram.
Instagram not only allows you to communicate with people and gain visibility. But also paves the way for your brand to be recognized and trusted by users
A communication strategy can be really beneficial to your expansion.
Here are some statistics that show that Instagram is a powerful platform for the loyalty of your prospects:
• In 2017, approximately 70.7% of total businesses in the United States are on Instagram. This is almost twice as much as in 2016 (48.8%), and this was largely influenced by the inclusion of Instagram profiles in the business.
• 65% of total Instagram content's most successful ones involve products. Despite the fact that it is not good to self-promote every time, Instagram users like to look at product photos from time to time. In fact, celebrity/influencer photos/videos (29%) and lifestyle photos/videos (43%) lag behind product images and videos.
• 7 out of 10 hashtags are tagged on Instagram. Hashtags not only help users with their social media SEO and organize content, but they have also played a key role in creating some of the most successful marketing campaigns.
So now you need to tap into this source of leads and define an Instagram strategy for your business. Read on to learn how to create an effective Instagram strategy to generate new leads for your business.
Instagram Marketing: How to Create an Instagram Marketing Strategy?
Your Instagram business profile should not look like your personal Instagram account in any way. And it's better if "you" rarely (if at all) appear on this Instagram page.
Here's how you can create a compelling Instagram profile that will help you improve your online presence to attract more customers.
A. Use an attractive bio.
Experts also believe that an Instagram bio should inspire a customer to take action while showcasing the personality of the company.
The bio should be both interesting and informative. It must be able to hook visitors. You need to convince visitors that adding you will improve the content and value of their feeds.
Provide details necessary to market your business in a concise and relevant manner. This should appeal to the Instagram community you are targeting. Also, be sure to reflect the tone of your shared images.
B. Link to Your Site.
Only in the Instagram bio can you place a clickable link, so take advantage of that. Include the link to your site in the space directly below the description (at the top of the Instagram page).
Including your website, the link is crucial for your Instagram marketing strategy. Make sure your URL is readable, as opposed to a series of random characters.
Have an aesthetic feed for the Instagram business marketing strategy.
Product images make an immense contribution to online shopping. Make Instagram your showcase to leverage this power.
Nearly 67% of total consumers rely on the product images before making their purchase decision. They give them a higher priority than reviews or product information.
Do not hesitate to promote your business on Instagram in an aesthetic way.
A. Promote your brand identity.
You must be able to enhance the brand identity of your company. Most of your Instagram feed aesthetic will be based on your business identity. It's up to you to set the tone and personality you want to reflect in the content posted.
B. Don't compromise. Focus on your target audience.
Respond to your target audience without compromising your brand identity. Be aware that the Instagram feed is primarily aimed at current and potential customers.
Research what in your product or brand most appeals to your target audience. And reflect that through the different types of content posted.
You can also define a persona to better target your target audience.
C. Stay consistent.
Your company will only gain brand identity if you respect your editorial line. Make sure your Instagram profile picture is consistent.
Add your profile picture thumbnail to all your insta engagements and interactions. Give a professional and recognizable touch to your IG profile.
D. Research your competitors' strategies.
Study the content of your competitors and get an idea of ​​what they are promoting on Instagram and essential to position themselves in your market.
Do they use user-generated content for their products or services? What kind of content do they post on social media? How frequently? What is their hashtag strategy?
Get new insights into what competitors are doing and new ways to improve your own Instagram strategy.
Tips to Boost Your Instagram Followers for free!
Create an Instagram marketing strategy with the right captions.
Creative Instagram captions are one of the keys to attracting new customers, but finding the right description for your image isn't easy.
A. Make time for it.
Many users feel compelled to post images right after taking them. Instead of rushing, you need to take the time to get your image caption right to captivate your audience. Your results will only be better.
B. Short but effective.
Instead of stretching the caption unnecessarily, make it short but sweet.
Remember that users will probably only spend a few seconds on your photo before moving on to the next one. Add value to your text instead of quantifying it.
You can through the description use your creativity to make the image more appealing.
Don't be cold, but speak as you would outside of the networks, it should boost your engagement. Instagram users hate formalities.
Use the right hashtags in your Instagram strategy.
Hashtags are used on Instagram to allow users to follow the content they are looking for.
You need to use your hashtags strategically so that more users can find your posts during their search.
Here are some practices that will help you get the most out of hashtags:
• Use fewer than 15 hashtags in each post.
• Select a few frequently searched hashtags.
• Integrate hashtags exclusively relevant to your target audience: the reactions may be fewer, but more qualitative.
• If the campaign or brand-specific hashtag, create branded hashtags.
• To implement your brand in a local area, opt for location-based hashtags.
Find out here how to use hashtags properly.
Boost your Instagram accounts in 3 minutes for free!
Create an Instagram marketing strategy with impactful stories.
Create a content marketing strategy. Content marketing is king today, so how does it work when applied to the Instagram story?
Stories are the most popular feature on Instagram (400 million daily active users as of June 2018).
If you can connect stories to your brand identity, they will automatically connect you emotionally with your audience and bring meaning to the content you post.
The stories you post go a long way toward building brand loyalty. Instagram gives you the best platform to post stories which gives credibility to the brand.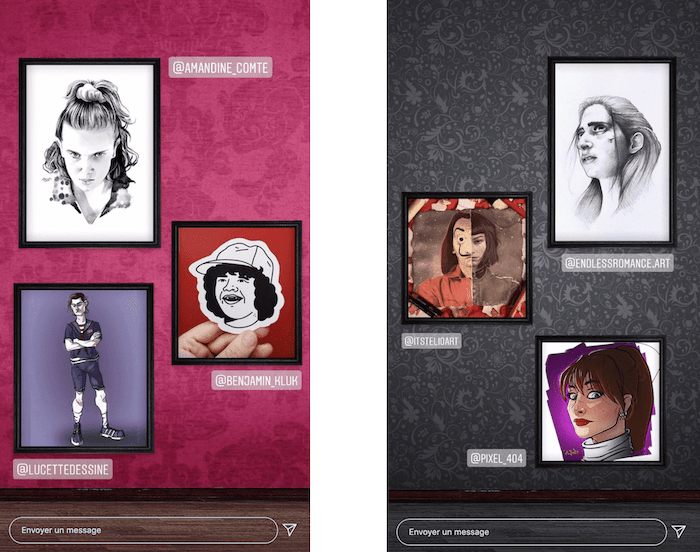 But at the same time, your Instagram feed should reflect your business (and brand) purpose and image, as they will create uniformity.
Random and disconnected content can be confusing. So be careful what you are about to post.
Develop an engaged community through its Instagram strategy.
Take care of a unique and relevant brand image and your community is assured.
Since feeds on Instagram change quickly, your content is likely to be buried in no time. The only way to change this is to add hashtags to your posts on Instagram.
In fact, hashtags have an important role to play in placing your business within different communities on Instagram that are linked by a keyword, which will make your posts findable for as long as Instagram is up and running.
Additionally, you can also consider inviting Instagram ambassadors to share your product/brand on their feeds.
Creating a group of ambassadors to spread the benefits of your brand to their followers will help you reach and win more customers.
Encouraging your followers on Instagram to post reviews and photos will also allow you to reach many other Instagram users.
Nearly 78% of total consumers purchase social media-based products/services from a brand.
Therefore, the more people you have to share and promote your brand, the more likely you are to convince potential customers to buy your product.
Another great way to build an engaged community on Instagram is to share the tagged photos of your followers on your Instagram profile.
Adding your users' content to your own Instagram feeds will generate good feelings, which will then be associated with the brand you are promoting – 65% of Instagram users agree that when a brand talks about them, they feel happy and honored.
Conclusion: How to create an Instagram strategy for your business.
Get off the beaten track! Don't be afraid to try new things. The Instagram algorithm constantly changes every half hour.
So whatever worked for you last week may not work next week. This is why you must regularly adapt your Instagram strategy.
Therefore, it is best to keep experimenting with new ideas all the time. If they work well keep them, if not try something new. Be original.
However, there are things you can't avoid such as branded content, premium images, user-generated content, friendly and engaging posts, and trending topics.
The tips mentioned above will surely help you to set up the best Instagram strategy.
And remember that reading articles will never replace personalized Instagram training.
To help you, we have created an application that allows you to gain real subscribers, boost your engagement, and manage your community more easily.
More than 40,000 people use it and your competitors are probably among them… Do you want to try it for free?
BOOST YOUR INSTAGRAM FOLLOWERS