Do you know Instagram introduces new features almost every week, and this can be challenging for Marketers to stay up to date with the latest Features  & updates. So to help you, we have compiled a list of the New Instagram Updates and Features that you may not know or may not be familiar with. And the best thing is that we keep updating this article every week with new Instagram updates and features, so just bookmark this page and stay updated!
You can also, subscribe to our newsletter, and we will deliver you with all the latest Instagram updates straight to your inbox.
By staying ahead with all latest Instagram updates, you can grow on Instagram and grow your followers. Let us help you navigate the ever-changing world of Instagram with our expert insights and tips.
New Instagram Update 2023 (September)
-AI Stickers for Instagram DMs or WhatsApp
Instagram after getting into AI, has introduced the customizable AI stickers for Direct Messages and Stories, improving user expression. With its advanced AI, users can easily personalise stickers, make interactions in more engaging. Initially you can see Sticker in English, but later Instagram will be adding in other languages too.
-AI Image Editing Tools
Instagram is thinking to launch AI image editing tools also, helping with advanced editing capabilities & unique effects to standout as Instagram content creator, as per Head of Instagram – Adam Mosseri. For now Instagram has launched this feature in United States.
-Location to Instagram Notes
In this Instagram update you can add a location when posting a Note. This feature was announced as a useful option to help content creators express more about their location and to connect more with their favourite friends and followers.
Here is a sneak peek of this new Notes Location feature:
New Instagram Update 2023 (August)
-Coming Soon: Share comments from public feed posts in Instagram stories
Instagram now in testing a new feature which will allow user to share comments from any public feed post or Reels to their Instagram stories like a tab.
So now creators can now highlight positive, supportive, or interesting comments from their followers, to showcase their love through Instagram feature. Below is the example of Instagram comment share to story:
New Instagram Update 2023 (July)
-Share a broadcast message on Instagram story
Instagram new feature where you can share a broadcast message on your Instagram story.
Just tap & hold on a message, select 'Share to story,' and then quickly you can share broadcast message with your audience on Instagram story.
New Instagram Update 2023 (June)
-Instagram Download with Reels Option
The Head of Instagram (Adam Mosseri), said that they are adding a option for users to download Instagram reels in the reel itself and now people can save reel on their phone's camera rolls which can be shared by public accounts.
Instagram Reel download feature is rolled out in the US, and it will be coming worldwide soon.
How to download Instagram reels from Instagram:  
Open any Instagram Reel to preview it.
Then tap on share 'arrow' icon on the right-hand side.
In the popup at the bottom, you will see the new Downalod option.
Now all you have to do is tap on it, and your Instagram Reel will be saved in camera roll.
New Instagram Update 2023 (May)
-Instagram GIF In Comments
Instagram has now added GIF option in comments, previously replying with GIF was only available on Facebook. Ass per Meta, GIF is the most interesting way to comment and people do like sharing GIF in comments.
-Add Music to Instagram Notes
Instagram is launched a new feature where people can share a song in Instagram Note.
This is a interesting way of self-expression and a conversation beginner that will help in boosting conversations which will led to more DMs.
It works like adding a song in Reels, where you can crop a screenshot from the song which will appear as the note. And when your friend will click on note, he will be able to listen to part of the song.
Here is how it will look after sending music to Instagram Notes:
New Instagram Update 2023 (April)
-Add Multiple Links to Instagram Bio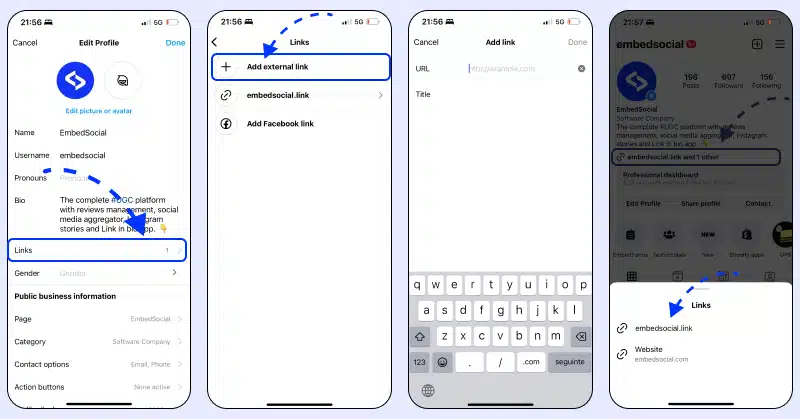 -New Reels Trends and Editing Tools and New Reels Insights
Exciting news for Instagram Reels enthusiasts! The New Instagram Update 2023 brings forth some amazing features that can help creators boost their content, earn more, and take their creativity to the next level.
One of the most noteworthy features is the 'Reels Trends' section, which provides a curated list of trending Reels. By tapping into this feature, content creators can gain inspiration and create Reels that reflect the latest trends. To access this feature, simply go to the Professional Dashboard and click on 'Reels Trends.'
Additionally, Instagram has introduced new and enhanced editing tools that enable creators to add videos, apply text and other effects like music, and create more engaging content. These new tools make it easy to create compelling and visually stunning videos that resonate with your followers.
Finally, with the improved insights feature, creators can access better information about the performance of their Reels. By clicking on 'View Insights' in your Reel, you can see stats such as total watch time and average watch time, allowing you to analyse and optimise your content for maximum engagement.
In summary, the latest Instagram update for Reels provides more opportunities for creators to showcase their creativity and connect with their audience. With these new features, Instagram is making it easier for users to create, edit and analyse their Reels, so they can maximise their earning potential and grow their followers.
-New Collaborative Collections on Instagram
Exciting news for Instagram users! The latest addition to the popular social media platform is Collaborative Collections, a feature that allows you and your buddies to create, share, and explore collections together. This new functionality takes your Instagram experience to the next level by adding a collaborative layer to it.
Creating Collaborative Collections is a breeze. Simply select a post that you like, tap the Save icon, and create a new collaborative collection with a unique name. Then, turn on the "collaborative" option, select the friends you want to share the collection with, and save. It's that simple!
Remember that only the friends you invite can view the collection, ensuring privacy and security. Additionally, you can add or remove friends as desired, and receive notifications for updates within the shared collection. Collaborative Collections are perfect for brainstorming, planning, or sharing your favorite finds with your friends. So, get started today and explore the possibilities of Collaborative Collections on Instagram!
New Instagram Update 2023 (March)
New Reels Trend 2023
Although it's not a fresh addition, Instagram offers a valuable report to creators. On our website, you can explore all the latest Instagram Reels trends, including those from March.
One trending theme is "The Real Me," where people can display their genuine, playful side by sharing candid photos. Another delectable trend that has taken off is the "Fried Cheese Pickle Wrap," which involves wrapping a pickle with fried cheese for a delicious snack. Watching videos of this mouth-watering dish may leave you feeling hungry, so it's best not to watch on an empty stomach.
New Instagram Update 2023 (February)
Meta Verified – Pay to get verified on Instagram & Facebook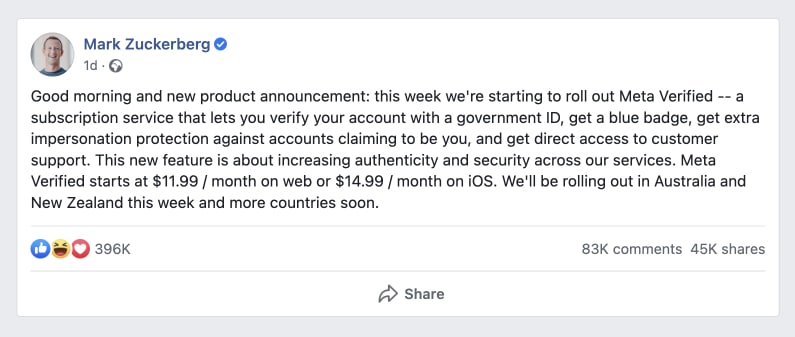 Mark Zuckerberg has finally announced that Meta will charge users who want blue tick on their account. Now you can get a verification badge by paying $11 on the Web or $14.99 on iOS. This new update has already been rolled-out in Australia and New Zealand.
After several months of Twitter's attempts to sell the blue checkmark verification service, the implementation has been delayed due to several issues.
However, according to Mark Zuckerberg, this service will be immensely beneficial for users seeking enhanced representation on the platform.
You can now verify your accounts with a government-issued ID, individuals can safeguard their Meta identity from impersonators and those misusing their name for nefarious purposes.
Introducing Instagram Broadcast Channels
Instagram has recently introduced its latest feature, known as the Instagram Broadcast Channels.
This new Instagram update provides a fresh way for creators to create a community within a new messaging area. With the help of an Instagram Broadcast Channel, creators can establish a direct connection with their followers, enabling them to share all their latest feed updates and instant news directly with their most devoted fans.
While this new Instagram update is only available to creators living in United States, it will be made available worldwide in the upcoming months.
Instagram Gifts – Instagram is launching Gifts for all creators in the US

Creators on Instagram now have the opportunity to earn a living through receiving digital gifts from their fans. This effortless revenue stream is made possible through Instagram's Gift option, which allows fans to purchase and send digital gifts to eligible creators via Reels.
This is how it works.
At present, the available digital gifts are called Stars, which can be selected from a library by fans and sent to their favourite creators.
As creators accumulate a certain number of gifts, they will eventually be able to exchange and withdraw them as actual money, providing them with a practical and lucrative income source.
Eligibility criteria for Instagram Gifts Option: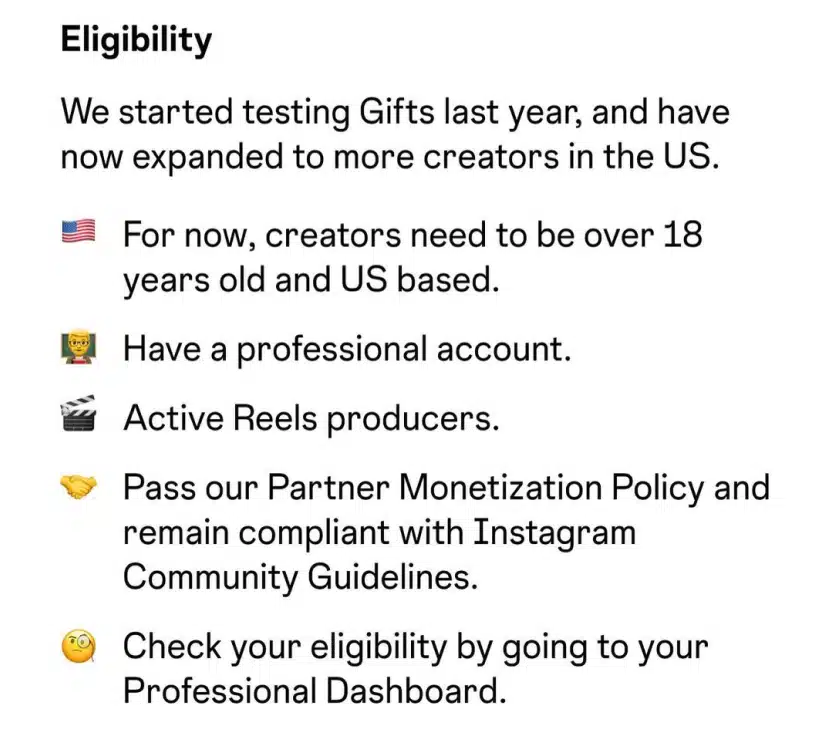 The creator must be based in the United States and have a professional Instagram account.
Create Reels on Instagram Actively
They must also regularly create Reels on the platform, in addition to passing Instagram's Monetisation Policy and complying with its Community Guidelines.
To determine eligibility, creators can access more information through their own Professional dashboard in the Instagram app.
It's important to note that the new Instagram update of sending Gift is only available on Reels, both past and present, and will be limited to this feature in the future as well. By meeting these requirements and taking advantage of this new feature, creators have the potential to significantly boost their income on Instagram.
---
If you loved this article then do share it and show some love for us. You can also follow us on Instagram and twitter for more updates. Have a great day & keep growing on Instagram.