Asus Zenfone 9 Review:
Asus is returning to the compact smartphone segment with a new, more powerful model. Does the Asus Zenfone 9 follow in the footsteps of its predecessor with convincing qualities? Answer in this article, don't miss anything.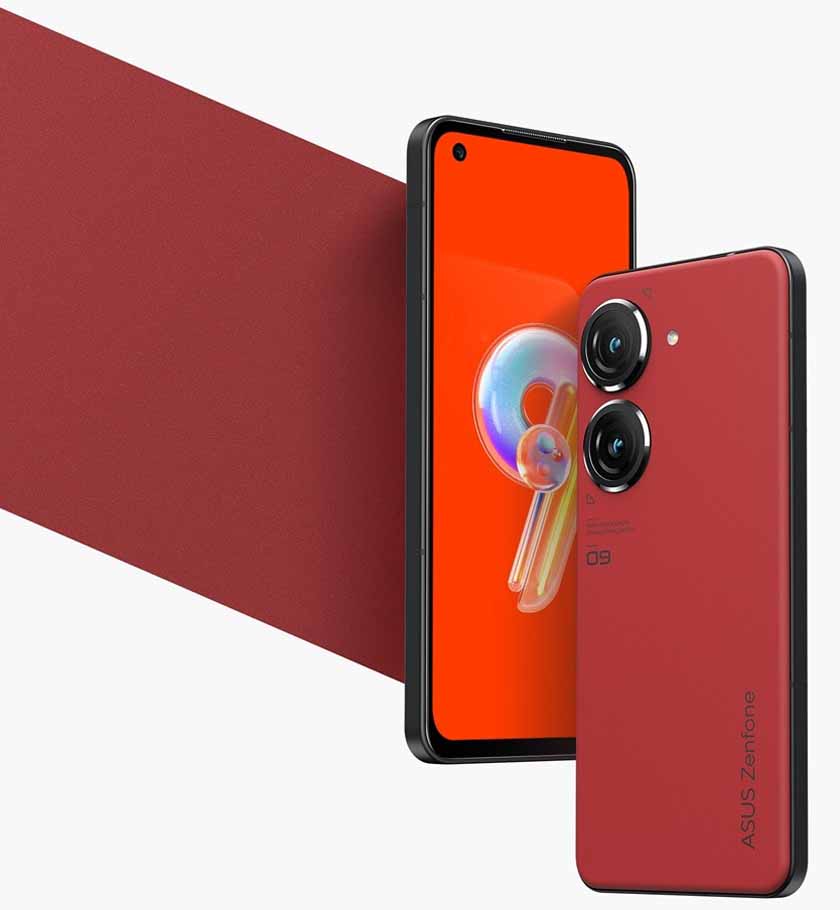 In mid-2021, the Asus Zenfone 8 had convinced the editorial staff thanks to its excellent handling, certain fluidity, and very well-made screen. A qualitative cocktail that had earned it the score of 8/10. This year, the Taiwanese brand is back with the Zenfone 9, just as, if not more, attractive on paper.
We tested it for ten days, and here is our verdict.
TECHNICAL SPECIFICATIONS
Model
Asus Zenfone 9
OS version
Android 12
Manufacturer interface
ZenUI
screen size
5.9 inches
Definition
2400 x 1080 pixels
Pixel density
445 dpi
Technology
AMOLED
SoCs
Snapdragon 8+ Gen 1
Graphics chip (GPU)
Adreno 730
Memory (RAM)
8 GB, 16 GB
Internal memory (flash)
128 GB, 256 GB
Camera (back)
Sensor 1: 50 MP
Sensor 2: 12 MP
Camera (front)
12 MP
Video recording
8K @24fps
Wireless
WiFi 6E
Bluetooth
5.2
5G
Yes
NFC
Yes
Fingerprint sensor
Yes
Ports (inputs/outputs)
USB Type-C
Battery
4300mAh
Dimensions
68.1 x 146.5 x 9.1mm
Weight
169 grams
Colors
Black, White, Red, Blue
DESIGN
They can only be counted on the fingers of one hand. They have become, over time, irreducible smartphones ready to defy the conventions of the moment. And yet, they still represent a whole era far from over, which resists the inevitable phenomenon of large screens.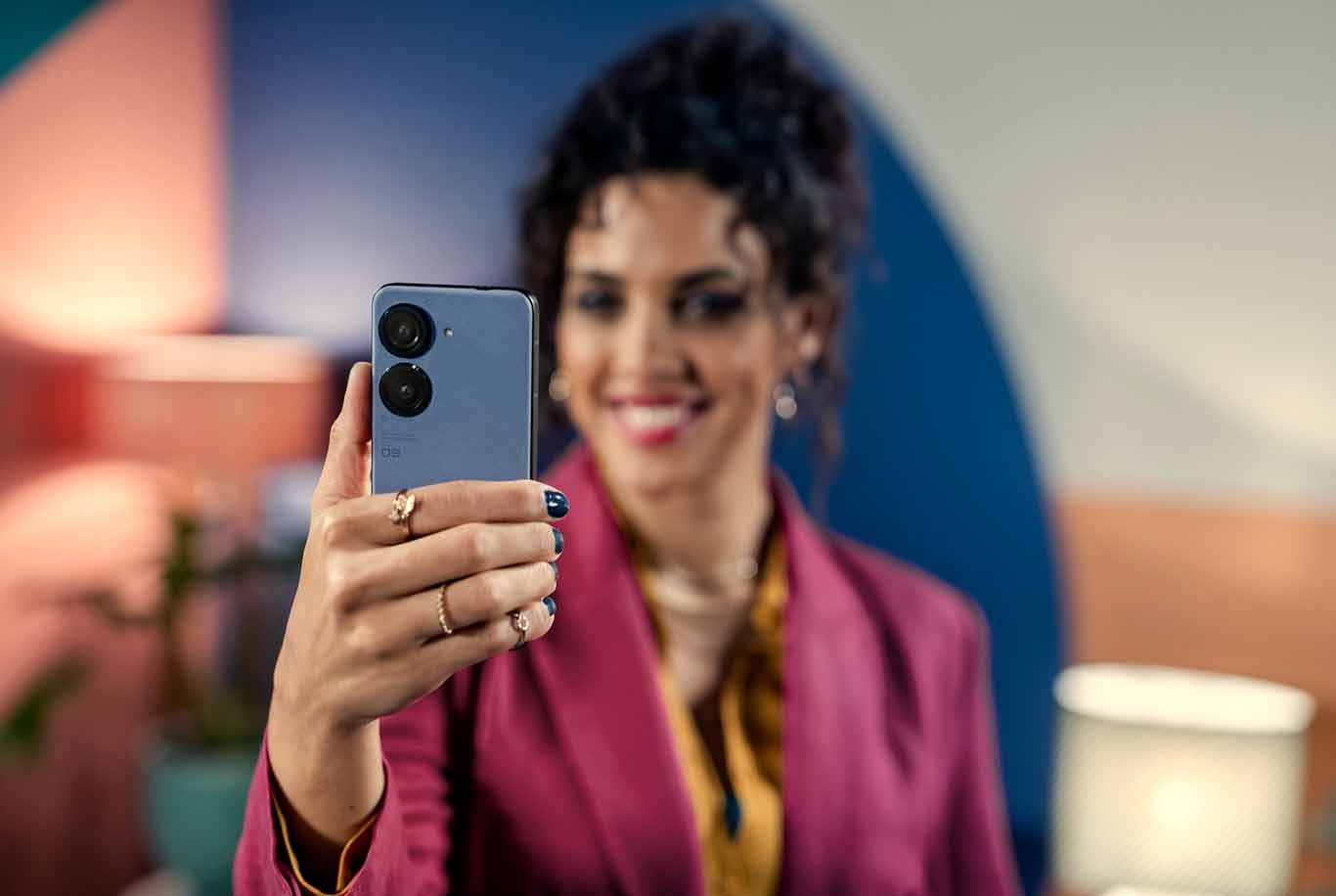 "They" are phones under 6 inches, which have become increasingly rare in recent years. Recent models include the iPhone 13 mini, the Galaxy Z Flip 3, and the Asus Zenfone 8 released a year ago. To this small group is added the Asus Zenfone 9 and its small 5.9-inch panel.
Such a diagonal has a clear and distinct advantage: excellent grip and one-handed comfort that you won't find on 6.5-inch phones. The Asus Zenfone 9 is a little treat for everyday use: it slips into your pocket without worries and is absolutely not felt thanks to its featherweight of 169 grams.
Its well-rounded corners in no way attack the palm of your hand. In reality, the only small remark that you could make to it concerns the thickness of 9.1 mm. It is relatively substantial, without being prohibitive. But this has the merit of giving it a somewhat robust appearance.
Check out the Top 10 Smartphones With Fast Charging Support!
In terms of design, Asus has opted for an original rear coating: polymer plastic, from which a rough feeling emerges. The advantage: it does not catch any fingerprints and is absolutely not slippery – as glass can be. It is an interesting bias, which will meet its admirers and its detractors. At technuto, we love it.
At the rear, the two photo sensors are housed in a particularly imposing and prominent individual module – especially the top one. They are unmissable. This choice reinforces the unique aesthetic side of the phone and gives it character. The Zenfone 9 just gets wobbly if you tap on the top left of the screen – without a case.
Overall, this mobile device has good finishes, without reaching the height of a sublime Samsung Galaxy S22, its main competitor. Don't worry: the Asus Zenfone 9 is still a pretty phone nonetheless.
A rare thing to underline is for a mobile sold at this price – from 799 dollars–, a jack has been added on the upper edge. Fans of wired headphones and earphones will be delighted. The whole thing is completed by a Gorilla Glass Victus screen protection and an excellent IP68 certification to protect against water and dust.
This Drone Makes You Feel Like Superman!
On the other hand, you have to ignore a micro SD card drawer, which allows you to add internal storage. It will therefore be necessary to be satisfied with the 128 or 256 GB available depending on the version.
DISPLAY
The screen of the Asus Zenfone 9 is based on solid, but classic characteristics at this price: the 5.9-inch panel opts for FHD + definition (2400 x 1080 pixels) and AMOLED technology which brings infinite contrasts – pixels fade out to display an impossibly deeper black.
49 COOL Things To Buy At Amazon Under $50 | YOU MUST WATCH
Obviously, a refresh rate of 120 Hz is in the game. This brings this feeling of fluidity to use. The screen of the phone answers us from the finger to the eye: for surfing on the Internet or your interface, there is nothing to reproach him.
Overall, the Asus Zenfone 9 enjoys a good balance, sufficient brightness, and controlled calibration. The copy is very clean.
SOFTWARE
The Asus Zenfone 9 relies on the ZenUI home interface based on Android 12. In reality, this ecosystem is very similar to the Pixel interface, both in terms of design and the ergonomics of the parameters. And on the whole, it's a success… but a few small points are sure to be improved.
First, the software experience is extremely fluid, with clear and neat animations. It's a small treat to use when OS, performance, and 120Hz are working in concert. Faced with an OneUI on the Galaxy S22 for example, a small gap is noticeable.
AUDIO
The Asus Zenfone 9 is an interesting smartphone in more ways than one when it comes to the audio experience. For one, it has an extremely rare, if not nonexistent, headphone jack on smartphones in the same price segment sold in recent years. For aficionados of wired headphones and earphones, this is a real plus. In short, he knows how to stand out.
Checkout: Apple HomePod Mini!
Overall, the result remains more than satisfactory and controlled, with sufficiently present bass. The maximum sound volume, considered a tad low last year, could also have beefed up its game, especially when listening to audio content outdoors. However, I happened to play music on a garden terrace, surrounded by one or two friends, without our voices covering the piece of the moment.
CAMERA
The Asus Zenfone 9 relies on a dual rear photo sensor, here is the configuration:
50-megapixel main sensor (Sony IMX766), f/1.9;
12-megapixel ultra wide-angle (Sony IMX363), 113° FOV, f/2.2.
Before delving into photographic analysis, it is important to highlight a detrimental lack: this phone has no sensor with an optical zoom. At this price, however, it is the bare minimum. It, therefore, leaves with a handicap in the face of the competition, which generally has one ( Google Pixel 6 Pro, Galaxy S22).
Asus Zenfone 9 Camera Key Points:
A DECENT, BUT FLAWED, WIDE-ANGLE SENSOR
THE ULTRA WIDE-ANGLE, NO MIRACLE
A DECENT DIGITAL ZOOM
A DECENT NIGHT MODE
AN UNEVEN PORTRAIT MODE
SELFIES WITHOUT DAZZLING
A HYBRID GIMBAL FOR VIDEO STABILIZATION
PERFORMANCE
Asus has put the package in the performance section. And again, that might be an understatement.
The Zenfone 9 is based on the latest generation chip – at the time of writing these lines – from Qualcomm, the famous Snapdragon 8+ Gen 1, associated with 8 or 16 GB of LPDDR5 RAM depending on the configuration. And the least we can say is that this phone is a real racing beast. If not one of the most powerful phones to date.
While Playing Fortnite in particular, the Asus Zenfone 9 performed flawlessly in 60 FPS configuration, epic quality, and 100% 3D resolution. It's simple: the device has not failed once and no latency has been detected. The number of FPS sometimes dropped to 30, which remains honorable to run the game well.
Must Check this out: The 8 Best Amazon Devices You Must Buy!
In short, fluidity is there. For other use cases, you have no problem: everything works perfectly, whether for multitasking or browsing your favorite applications. The only downside concerns the heating which occurs quickly on Fornite after a few minutes of play. On this point, Qualcomm still has a little effort to make.
BATTERY
The Zenfone 9 defies predictions and has a very comfortable autonomy for everyday life. Holding a day and a half is quite possible. For example, I happened to keep 70% of my battery at 4:30 p.m. mixed-use mixing Slack, Google Maps, Instagram, Chrome, WhatsApp, and even Messenger.
Even with heavy and intense use, the device will not let you down in the middle of the day. In particular, I fell below 10% at midnight, after playing Fortnite for almost an hour during the day, and using for a certain period of time (between 10 minutes and an hour) at least eight other applications.
Only the charging power could slightly tickle 30W when competitors like Oppo, Vivo, or Xiaomi opt for much higher peaks. It's still decent though. Here are the measurements were taken during our test:
10 minutes: 9% to 29%;
20 minutes: 9% to 44%;
30 minutes: 9% to 88%;
1 hour: 9% to 57%;
1h15: from 9% to 100%.
No wireless charging is on the program, which is a bit of a shame at this price range.
Also Watch: Best Offline Games With High Graphics
PRICE AND RELEASE DATE
The Asus Zenfone 9 is available in three versions:
799 dollars: 8 + 128 GB of storage, in colors Midnight Black (mid-August), Moonlight White (mid-August), Sunset Red (end of August), and Starry Blue (end of August);
849 dollars: 8 + 256 GB of storage, in Midnight Black (mid-August) and Moonlight White (mid-August);
899 dollars: 16 GB + 256 GB of storage, in Midnight Black color (mid-August).