Crypto.com Review
Crypto.com was created in 2016 with the aim of offering everyone the possibility to control their money and data. To do so, Crypto.com thus allows you to buy, sell and exchange more than 150 crypto-currencies. With a presence in 90 countries and more than 10 million users worldwide, Crypto.com is now a must.
Also Read: What is cloud mining and how does cloud mining work?
Moreover, its mobile application, available on Google Play Store and the App Store, has grown very fast, partly due to its ease of use. In addition to the app, there is the Crypto.com Exchange platform on mobile and desktop. The latter is solely focused on cryptocurrency exchange and is aimed at a more experienced trading audience.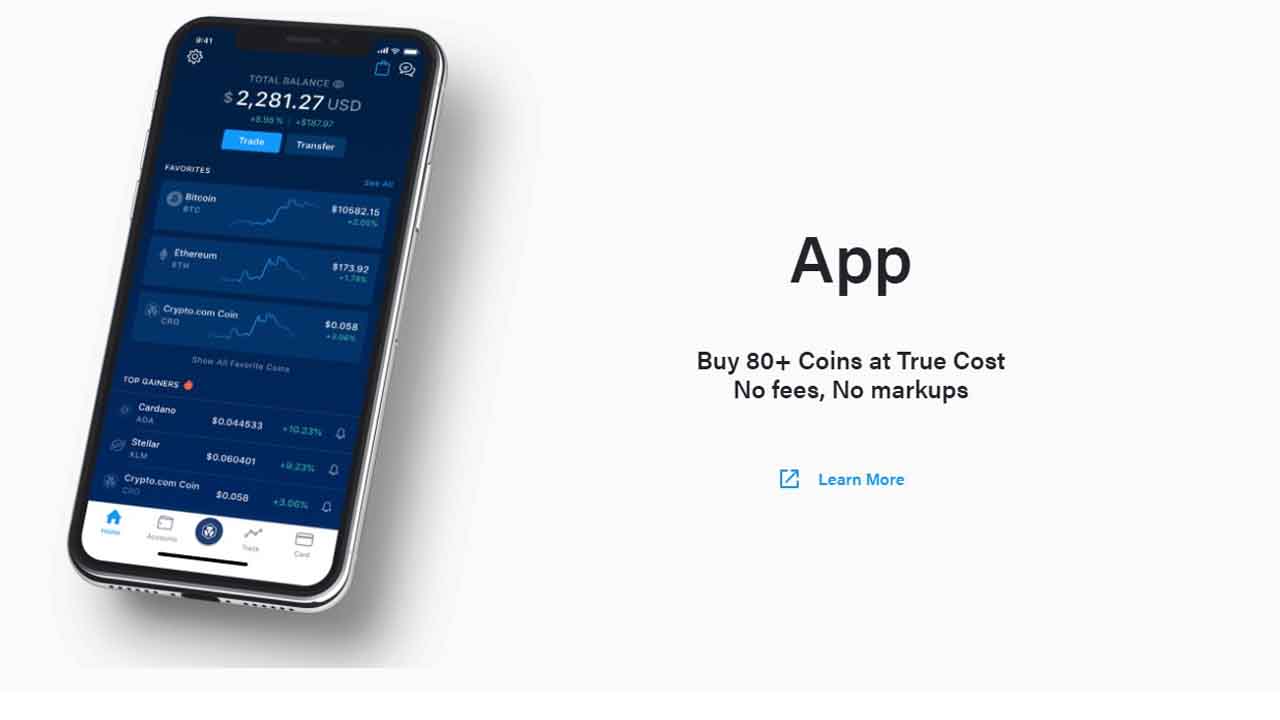 Crypto.com provides several tools to diversify its investments. The platform has even created its own digital currency (CRO or Crypto.com Coin) as well as a Visa card in its name to allow users to pay for everyday purchases easily and quickly from their crypto asset wallet.
General Info:
| | |
| --- | --- |
| Web address: | Link |
| Main location: | Hong Kong |
| Daily volume: | 0.0 BTC |
| Mobile app available: | Yes |
| Is decentralized: | Yes |
| | |
| --- | --- |
| Parent Company: | Crypto.com |
| Transfer types: | Bank Transfer, Credit Card, Debit Card, Crypto Transfer, |
| Supported fiat: | 20+ |
| Supported pairs: | 100 |
| Has token: | CRO |
| Fees: | Medium (Compare rates) |
Pros & Cons:
Pros:
More than 150 cryptocurrencies are available.
Crypto.com Visa Card with up to 8% cashback
Earn 50 USD on Signup.
User Friendly.
Cons:
Mandatory CRO Tokens to Enjoy Big Cashback on Crypto.com Card
The benefits of the card are few.
Is Crypto.com Safe?
Before entrusting your money to an online platform, it is essential to find out about its security. Crypto.com is committed to protecting the personal data and funds of its users. For this, the platform has put in place several devices.
Also Read: 7 Cryptocurrencies With LIMITED SUPPLY You Must HOLD!
First, all data is kept in offline servers (the famous "cold storage") which prevents theft and protects against physical damage. Multi-factor authentication (2FA) to access one's account also helps to avoid the risks of usurpation. This is a must for this type of application.
Furthermore, Crypto.com guarantees that funds are protected by cryptographic keys. All deposits and withdrawal requests are meticulously analyzed and monitored by a dedicated team. This way, any suspicious transactions will be detected.
Finally, the exchange has hired specialized security auditing companies to perform tests and audits on its blockchain systems. So you can trust Crypto.com completely.
Is Crypto.com platform legal?
Let's continue this review of Crypto.com with the regulation. This is an aspect to consider before depositing funds. Fortunately, with Crypto.com you will not encounter any problems in this respect.
It is a reliable and regulated company registered in Malta, Europe, and regulated by the Malta Financial Services Authority. It is important to note that it is not blacklisted by the AMF, the French Financial Markets Authority.
Also, U.S. residents benefit from FDIC insurance up to a maximum of $250,000.
Crypto.com Exchange Fees
Crypto.com has a lot going for it, but not everything is so rosy, especially when it comes to fees.
Not surprisingly, deposit fees are free. Likewise, exchanging one crypto for another from the Crypto.com application will not cost you anything.
Also Read: What is Digital Collectibles and how to connect Digital Wallet to Instagram?
On the other hand, withdrawal fees to another wallet are charged and depend on the cryptocurrency. To withdraw Bitcoin (BTC) for example, Crypto.com charges 0.0004 BTC, which is about $21. For Ethereum (ETH), the fee ranges from $26 to $1.60 depending on the blockchain network. If you are considering buying Polkadot (DOT), the fee is $3.50. These are just the most popular crypto-currencies and we can already see that overall, these fees are quite high.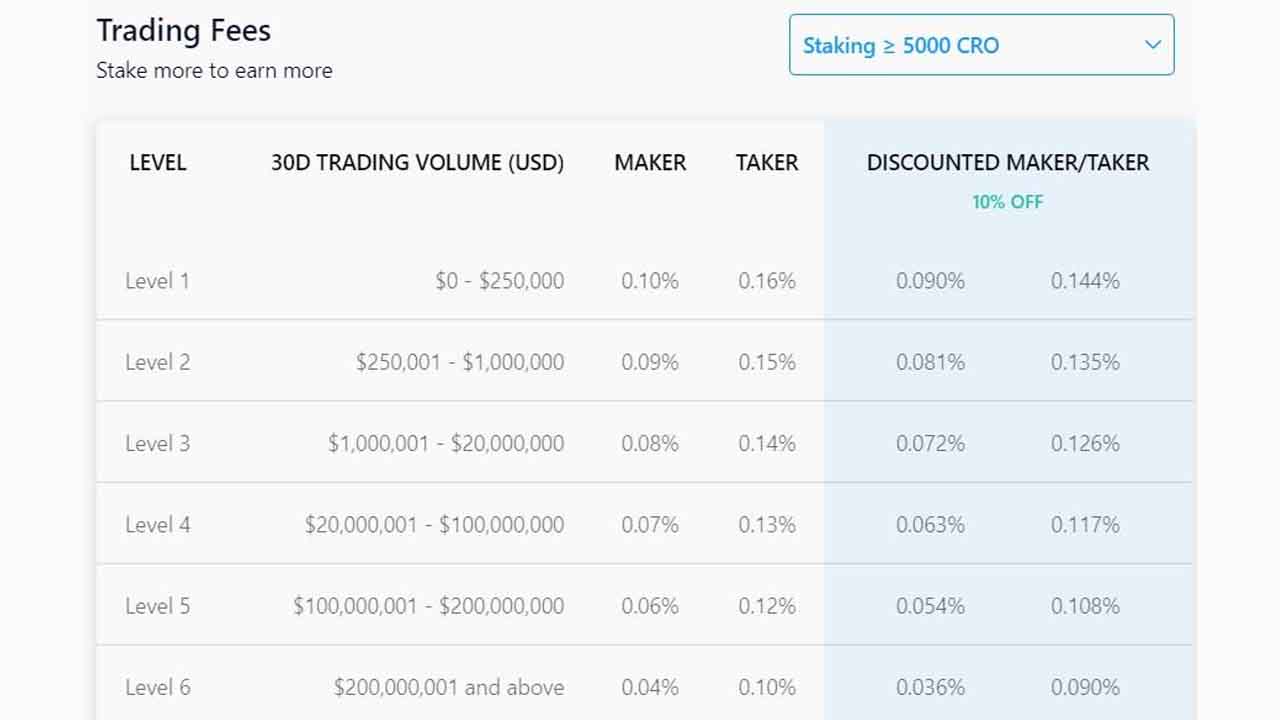 Regarding the purchase of crypto-currency by credit card, you should know that new users benefit from 30 days without fees. For those who don't have one, this is a good way to get some without paying additional fees (often very expensive). Once the 30 days are up, the fees will increase to 3.5%.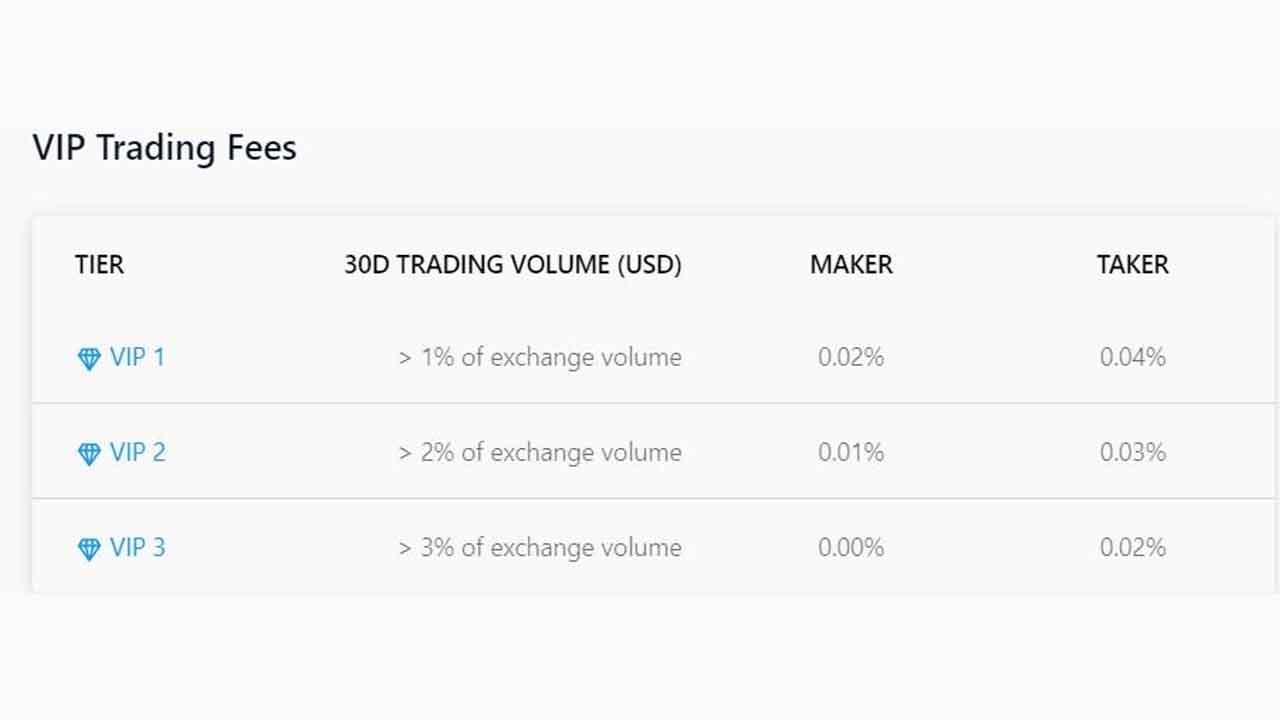 On Exchange, a trading fee will be charged. To reduce these fees, it is possible to store CROs. You will then benefit from interesting discounts. Also, the higher the trading volumes, the more attractive the discounts.
Crypto.com Token (CRO)
As we have just mentioned in our Crypto.com review, the platform has developed its own crypto-currency, the Crypto.com Coin (CRO). For your information, 1 CRO is worth a few cents at the time of writing.
Holding this currency unlocks many benefits on the platform. In addition to incentivizing the purchase of CRO, it also builds customer loyalty.
For example, obtaining CRO allows you to pay transaction fees, and access reduced trading fees or additional cashback with a Visa card. The more CRO tokens you have, the more cashback you will receive (up to 8%). We'll tell you more about this in the next part of our Crypto.com review.
Review of our opinion on Crypto.com
Crypto.com is a reputable exchange present on the market since 2016. Following our test conducted in 2022, we think that the mobile application Crypto.com is a good introduction to cryptocurrency trading. It gives the ability to trade, buy and sell over 150 crypto-currencies simply from their smartphone or tablet. Users will even be able to pay instantly using the Crypto.com Pay feature or the Crypto.com Visa card.
However, if you have read this entire Crypto.com review, you probably know that in our opinion, it lacks some features. But overall, Crypto.com is the second-best and safest exchange. And you might be thinking that which is the best exchange? Read this article and learn more.
FAQ
Is Crypto.com a reliable and secure platform?
Crypto.com is a relatively reliable crypto platform. Now is it 100% safe? Yes, it is safe and the biggest crypto exchange. But there are some missing things about this exchange that we have mentioned already in this article.
It's up to you to make up your own mind about it. You can also see these Top 10 Crypto Exchanges.
How to withdraw funds from Crypto.com?
Withdrawing funds (Fiat currencies) is relatively simple. First, open your Crypto.com application. Then link a bank account to your account (if not already done) and select the option to withdraw. Once on the corresponding interface, you will have two choices: withdraw Fiat currency or crypto-currencies.
Also, Watch the 10 Best Cryptocurrencies that will EXPLODE!
Choose the first option, select the currency you want to withdraw, and then fill in the amount you want to withdraw. You will then be informed of the potential fees that will be applied to the transaction.
Please note that Crypto.com has limits on how much you can withdraw. Make sure you respect these limits or you may not be able to make your withdrawal.
Who owns Crypto.com?
The company was founded by Bobby Bao, Gary Or, Kris Marszalek, and Rafael Melo in 2016 under the name "Monaco". It was not until 2018 that the company was renamed Crypto.com, following the purchase of the corresponding domain name.
---
Disclaimer: All price predictions/forecasts provided on our website are for general information only. None of the website content provided by us should be taken as financial advice, legal advice, or any other form of advice intended for your investment. You should do your own research and perform proper analysis before investing in any cryptocurrency. Trading is a very risky activity, please consult your financial advisor before making a decision.